Coues Deer Hunts
Hunt World Class Coues Deer in Mexico
All hunts are 6 days (travel excluded), fair chase and conducted with a 1x1 guide to hunter ratio. We use 4x4 vehicles (2 hunters per vehicle) or horses to access the hunt areas, then we hunt the mountains and canyons on foot.
Our success rate is 98%, with most trophies scoring 90 or better B&C. Every year our hunters take several deer that meet or exceed the Boone and Crockett minimums.
Coues Deer season runs from Dec. 1 to mid-Feb. The coues deer rut generally takes place during the month of January.
Temperatures during the fall and winter months range from 70 to 20 degrees, with a slight chance of snow. The elevation of the camp northwest of Casas Grandes is 6000 feet above sea level and Ojo Caliente Ranch headquarters sits at 4500 feet above sea level.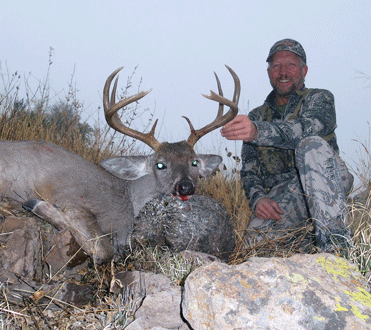 Why Hunt With Ojo Caliente Outfitters?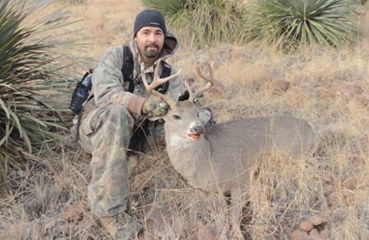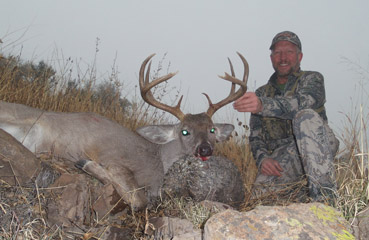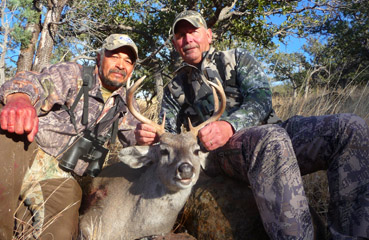 We own our own ranches and do not lease hunting rights to anyone! We have posted lots of photos of our hunting ground, facilities and harvested bucks so you will know what we have and the trophy potential. You will not run into any other hunters and it is doubtful that you will see anyone other than the occasional cowboy and those in your own hunting party. We have not killed more than 15 bucks off of either of our ranches in any one year since 2002. We have guides who know the ranches and are good at spotting deer because they have lived in the area their entire lives. We have never had a problem crossing hunters and their rifles into Mexico, or exporting trophies to the States. We have a long list of satisfied customers, and most of our clients are repeat customers who have decided that life is too short to miss January coues hunts in the Sierra Madres of old Mexico!
Hunt Rates & Information
The following prices include your license and tag, but do not include your gun permit fee.
50% of the hunt price and 100% of the gun permit application fee is due at the time of booking. The balance of the hunt price is due 60 days prior to arrival. Non-hunting guests are $200 a day subject to availability. All hunts are booked on a first-come, first-served basis.
Deposits and license fees are non-refundable.
Substitute participants are allowed with the consent of Ojo Caliente Outfitters.
*** Rates DO NOT include gun permits, which are $500.00 for two guns.
| | | |
| --- | --- | --- |
| Coues Deer | 6 Days / 1x1 Guide to Hunter | $5300.00 |